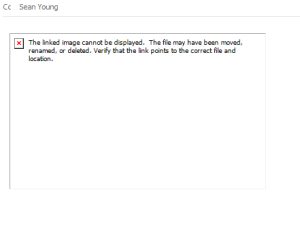 I had a user who could not send images via Snipping Tool in Outlook 2010.  Copy and paste worked but not Send To > Email Recipient.
Looking at the source of the email Outlook was sending the local path of the image and not the image.  There is a setting in the registry that fixes this.  The path below will differ depending on the version of Office you have.  12.0 being Office 2007, 14.0 being Office 2010, and 15.0 being Office 2013.
Open Regedit and browse to the following key...
Key: HKEY_CURRENT_USER\Software\Microsoft\Office\14.0\Outlook\Options\Mail
Value type: REG_DWORD
Value name; Send Pictures With Document
Value: 0
I had a user who set their background in Windows but lost the file. They asked if I could recover it. After doing some research I discovered the location of their wallpaper.
c:\%USERNAME%\AppData\Roaming\Microsoft\Windows Photo Viewer\Windows Photo Viewer Wallpaper.jpg
If you are trying to locate the default Windows wallpapers they are located at
c:\%USERNAME%\Windows\Web\Wallpaper
If you are having trouble connecting a Windows 7 machine to a Windows XP share try enabling Network security: LAN Manager authentication level - Send LM & NTLM responses.
Open the run dialog and type gpedit.msc and press enter.
Open Computer Configuration
Open Windows Settings
Open Security Settings
Open Local Policies
Open Security Options
Find Network security: LAN Manager authentication level and change it to Send LM & NTLM responses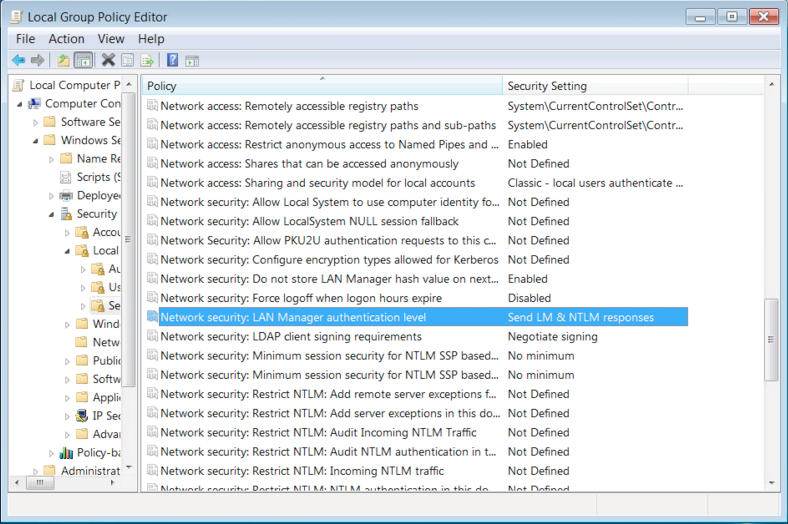 Sympton
You are prompted to enter your credentials, even though the user account that you are using has sufficient permission to access this site.
For example, when you open a Microsoft Office file from a Microsoft Office SharePoint site by using 2007 Microsoft Office on a Windows 7-based client computer that has no proxy configured, you are prompted for authentication.
Solution
you have to create a registry entry. To do this, follow these steps:
Click Start, type regedit in the Start Search box, and then press ENTER.
Locate and then click the following registry subkey:

HKEY_LOCAL_MACHINE\SYSTEM\CurrentControlSet\Services\WebClient\Parameters

On the Edit menu, point to New, and then click Multi-String Value.
Type AuthForwardServerList, and then press ENTER.
On the Edit menu, click Modify.
In the Value data box, type the URL of the server that hosts the Web share, and then click OK.Note You can also type a list of URLs in the Value data box. For more information, see the "Sample URL list" section in this article.
Exit Registry Editor.
Restart the WebDAV service.
Open an elevated command prompt and type in net stop WebClient && net start WebClient
Reconnect to your SharePoint site.
If you have a computer that is connected to a domain and is plugged into the domain network but doesn't have the domain profile active in the firewall settings of Windows 7 check to make sure you have your domain DNS server set as your primary DNS.
I had a client have an external DNS set for "faster internet" but it was causing errors on the machine because the PDC couldn't communicate with it correctly.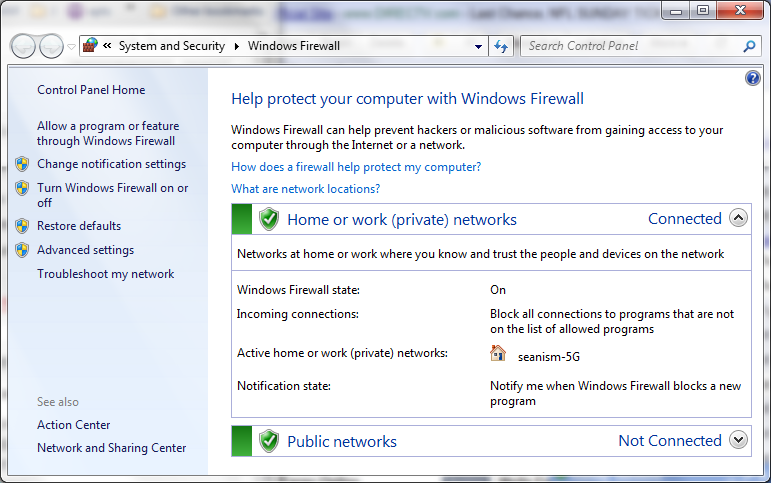 A client of mine was having the error 0x8004010F in Outlook 2010.  I repaired the PST and it fixed 30 or so errors but I was still having the issue. I ended up creating a new Outlook profile using the following link...
http://support.microsoft.com/kb/2289904
After creating the new profile I could not open or export the previous PST.  I realized she had checked the option Run this program in compatibility mode for: Windows XP checked.  Once I unchecked that Outlook 2010 could open & export the previous PST.
If Outlook 2010 is prompting for UAC everytime you open it check to make sure you don't have Run this program in compatibility mode for: or Run this program as an administrator checked.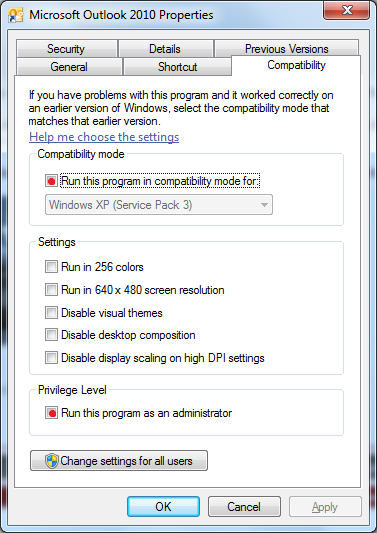 I have Windows 7 x64 and a 1.5TB hard drive. Whenever my PC was resuming from standby I would get a BSOD. I initially thought it was a driver issue but I came across this KB article.
"You receive various Stop error messages in Windows 7 or in Windows Server 2008 R2 when you try to resume a computer that has a large SATA hard disk"