I had a user who set their background in Windows but lost the file. They asked if I could recover it. After doing some research I discovered the location of their wallpaper.
c:\%USERNAME%\AppData\Roaming\Microsoft\Windows Photo Viewer\Windows Photo Viewer Wallpaper.jpg
If you are trying to locate the default Windows wallpapers they are located at
c:\%USERNAME%\Windows\Web\Wallpaper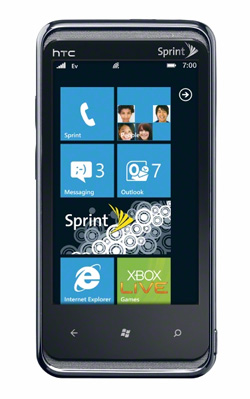 I picked up the Sprint Arrive a few days ago.  I've had the itch to try out Windows Phone 7 so when they announced a device for Sprint with a physical keyboard I was pretty much sold.  Most reviews I've read are positive and Nebraska Furniture Mart had a special for $79.99 so I jumped on it.
Day 1. Couldn't get it activated.  I was able to manually provision the device to get voice and texts but no data.  The CSR, who was extremely helpful and knowledgeable, walked me through every possible option but nothing seemed to work.  Since I could make calls and use WiFi we decided to wait and see if the data provisioning was just taking longer then it should.  A few hours later it still wasn't working so I stopped by a Sprint store and they surprisingly got it working.  They didn't do anything different then me but perhaps the provisioning finally kicked over.  As far as  I can tell this wasn't the phones fault.  I blame the cell phone gods for the issues I had.
Day 3. The phone is working well but there are some quirks / issues that I think should be addressed...
Windows Phone 7: The homescreen and other parts of the OS don't work in landscape mode.  For a device that is suppose to be used in landscape mode it can be a little frustrating at times.   I think a good solution would be have the image / text inside the tile rotate when you switch to landscape mode.  You then swipe left to right to move between tiles or swipe down to get to your application list.  Not a deal breaker by any means but I think it deserves mentioning.
Windows Phone 7: When you open a text message then slide out the keyboard it puts the cursor in the text box and you can start typing.  If you have the keyboard already open when you select a text message you have to manually click inside the text box to allow you to start typing.
Windows Phone 7: When using Internet Explorer in landscape mode the only way to see the address bar is to slide out the keyboard.
Windows Phone 7: When you do a search in the email app in portrait mode after typing your search string pressing enter does not hide the keyboard.  The only way to get the keyboard to disappear is to select one of the first 2 messages or swipe down to scroll through more emails.
Sprint Arrive: The power button on the Arrive doesn't have enough substance.  I have a hard time feeling which side of the phone is the top when I take it out of my pocket.  I think raising the power button slightly so you can feel that side is the top.  Also or at the very least have it "click" a little more so you know you've pressed it.
Sprint Arrive: The slide mechanism seems to get stuck if you don't slide it either with 2 hands or practically in the center of the phone.  Even sliding it closed in the middle gets stuck sometimes.  It has a little oreo effect similiar to what the Pre suffered from.  I'll need to check out some other units to see if they suffer the same way.
Taking all this into consideration I still really enjoy the OS and what Microsoft has done.  Their approach allows for a very consistent and fluid interface.  Someone can pickup any Windows Phone and be able to navigate just as if it was their own.
I feel the OS is at a .8 or .9 release.  Almost a 1.0 product.  Since the Sprint Arrive shipped with NoDo I am not familiar with how the OS operated before that update.  Relative to most products that ship today it is a finished product.
This will be a continuing review.  I am better at remembering the things that frustrate me over the things that I enjoy.
To find out your version of SQL download/install/open Microsoft SQL Server Management Studio Express then click New Query
Paste the below code in the query pane on the right
SELECT @@VERSION
SELECT SERVERPROPERTY('productversion'), SERVERPROPERTY ('productlevel'), SERVERPROPERTY ('edition')
and click Execute
In the results window it will display the version, Service Pack, and edition.
For older versions refer to the command and chart on the Microsoft KB 321185.
A client of mine was having the error 0x8004010F in Outlook 2010.  I repaired the PST and it fixed 30 or so errors but I was still having the issue. I ended up creating a new Outlook profile using the following link...
http://support.microsoft.com/kb/2289904
After creating the new profile I could not open or export the previous PST.  I realized she had checked the option Run this program in compatibility mode for: Windows XP checked.  Once I unchecked that Outlook 2010 could open & export the previous PST.
If Outlook 2010 is prompting for UAC everytime you open it check to make sure you don't have Run this program in compatibility mode for: or Run this program as an administrator checked.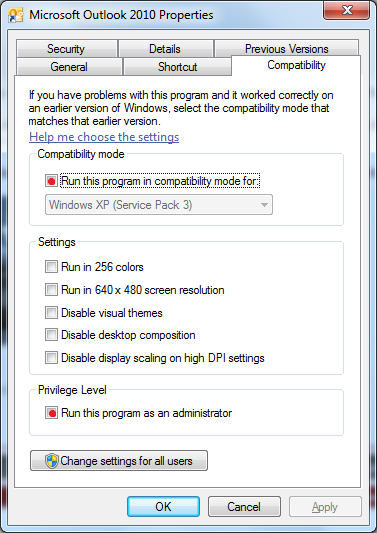 If Outlook 2007 has been running slower then usual you can try disabling Add-ins that are not being used.
To do this Open up the Trust Center by navigating to Tools –> Trust Center on the menu.
On the left-hand pane, choose Add-ins, and then near the bottom of the window you'll see a button that will let you manage your COM Add-ins.
From this window you can disable any addins that aren't in use.   Here are some I've disabled...
Microsoft Exchange Unified Messaging - Disable this if you aren't using Exchange.
Microsoft Office SharePoint Server Colleague Import Add-in - Disable this if you aren't using Sharepoint.
Microsoft Outlook Mobile Service - Disable this if you are not sending text  messages from Outlook.
iTunes Outlook AddIn - Disable this if you are not syncing your calendar or contacts with an iTunes device.
If your printer in Windows Server keeps going offline even if its status says 'Ready' and you know its online try disabling SNMP on the Server.
Right click the printer and choose Properties.  Under the Ports tab click Configure Port... and uncheck SNMP Status Enabled.
I couldn't print to a network printer shared through Server 2003 SBS.  I tried restarting the Print Spooler on the Server but that ended up freezing the Printers and Faxes window.   I tried clearing out the print queue by emptying the following folder:
%SystemRoot%\System32\Spool\Printers
You will have to stop the Print Spooler to delete the files
To fix this I deleted the TCP/IP port in the registry:
HKLM\SYSTEM\ControlSet001\Control\Print\Monitors
Look for the corresponding IP address.  Always backup the registry before modifying anything.
I have Windows 7 x64 and a 1.5TB hard drive. Whenever my PC was resuming from standby I would get a BSOD. I initially thought it was a driver issue but I came across this KB article.
"You receive various Stop error messages in Windows 7 or in Windows Server 2008 R2 when you try to resume a computer that has a large SATA hard disk"