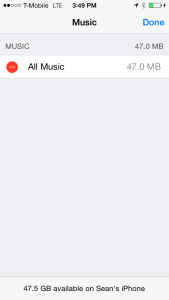 A user of mine had an iPhone 5 that she was syncing with her iTunes library.  She had removed everything from her library except a single album.  After syncing the phone still had about 40 songs that would not go away.  After multiple attempts at deleting them I found the easiest way to wipe all the music so we can start fresh with only the songs in her iTunes library.
On the phone open Settings > General > Usage and under STORAGE click Music, then Edit, then click the red circle with the line through it.

My iPad was taking upwards of 45 - 75 minutes to do a complete sync. I found a utility that disables the backup portion of the sync which speeds it up significantly.
http://www.digidna.net/products/backoff
The utility works for all ios devices.
If you have an iPhone with OS 3.0 or greater and Exchange 2007 it will require you to enable a PIN on your device by default. To disable this you need to...
Open the Exchange Management Console
Expand the Organization Configuration
Click on Client Access
Double click your Activesync Mailbox Policy
Click the Password tab
Uncheck Require password and click OK
If your iPhone is already syncing with Exchange you'll need to remove the partnership for the setting to take effect.
In the console tree, navigate to Recipient Configuration > Mailbox.
Select a user, and then select Manage Mobile Device from the action pane. * The Manage Mobile Device dialog box will display a list of all devices that are configured for synchronization.
Choose the device, Select Remove mobile device parternship and click Remove.
Note: The Manage Mobile Device link is only available in the action pane for users who've established a mobile phone partnership with the Exchange server.