Standard e-mail etiquette is pretty obvious to most of us and if you're good at it, you'll get your point across more often without stepping on toes or causing unneeded confusion. Simple things like identifying yourself well, avoiding sarcasm and adding context to statements are all extremely beneficial. However, writing e-mails to highly technical developers, system administrators, and engineers is a little trickier. These types of e-mail recipients don't really enjoy handling e-mail (inbound or outbound) and most find that e-mail is just a speed bump which interrupts their productivity.
If you're not technical, you might be asking yourself: "I need to e-mail technical people and they need to take what I say seriously? How do I do it?" It's not impossible, but the rest of this blog post should help.
A client of mine's laptop ran out of free space.  I did a scan and noticed the file MotoHelper.log was using it all.   After deleting the file it began to consume all the free space again after a few days.  I uninstalled the MotoHelper software and all is well.  I couldn've tried updating it but the client did not need the software.
The file path is...
C:\Program Files\Motorola\MotoHelper\MotoHelper.log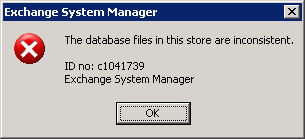 One of the Windows SBS 2003 servers I administer had a BSOD and after bringing it back up the Exchange store wouldn't mount.  It gave the error "The database files in this store are inconsistent."
I used the Eseutil.exe utility to check the consistency of the store.
"c:\Program Files\Exchsrvr\bin\eseutil.exe" /mh "c:\Program Files\Exchsrvr\MDBDATA\priv1.edb"
From the output I noticed 2 things.  The state was set to dirty shutdown and one of the logs was missing or corrupt.
State: Dirty Shutdown
Log Required: 16655-16655 (0x410f-0x410f)
I tried running Eseutil.exe /r but received an error.  I then proceeded to run Eseutil.exe /p which repairs the database.  Once that was complete I ran an offline defrag, Eseutil.exe /d, and lastly isinteg.exe -s servernsmr-fix -test alltests which checks for integrity weaknesses.
I was then able to mount the store and users were able to access their mailboxes.  A word of caution Eseutil.exe /p is usually a last resort and can cause some data loss.  Microsoft recommends restoring from a clean backup rather then doing a repair.  I'll leave that decision up to you.
I noticed CentOS 6 is out.  I downloaded CentOS-6.0-i386-netinstall.iso.  So far it's working flawlessly with Virtualbox.
For those that don't have the netinstall URLs they are...
32 bit: http://mirror.centos.org/centos/6/os/i386/
64 bit: http://mirror.centos.org/centos/6/os/x86_64/